Vision: To provide ICT driven, fast and reliable services to public.
Mission: Improve service delivery through strategic ICT plans, advocacy and initiatives.
Background
Every Dzongkhag has ICT unit providing cross sectoral ICT services. Chhukha Dzongkhag ICT unit has currently two staffs, one ICT officer and one ICT Associate. ICT unit looks after the network and other ICT related work for all gewogs, schools, BHUs and nearby regional government offices. Chhukha is challenging with difficult geographical terrain and most gewogs are located far from the Dzongkhag Administration. Moreover, some schools and BHUs are very far from gewog centers leading to difficulty in connectivity coverage. Last mile connectivity status as shown below: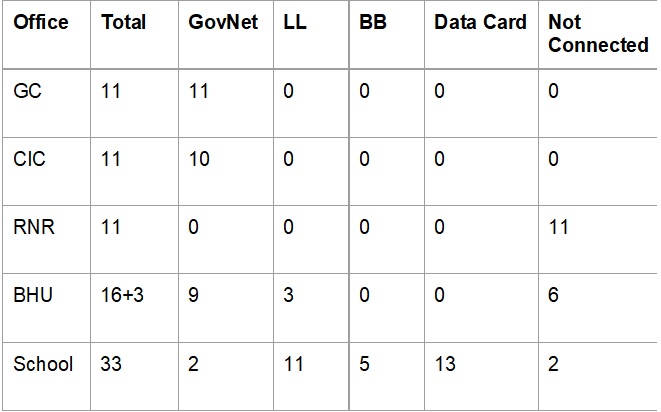 There are 127 active Google Apps users under chhukha domain and 400 users under education domain working in Chhukha under education sector.